Let's make your
own critter robot !
Let's make your
own critter robot !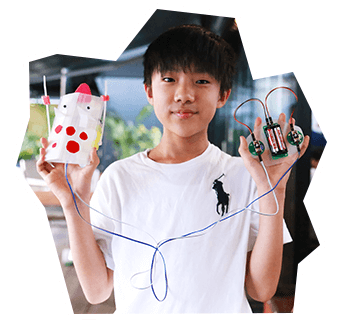 Take a look at
everyone's
critter robot !
Take a look at
everyone's
critter robot !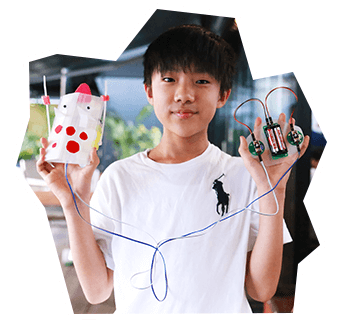 Thoughts after
Critter-Making
I'm happy to have a small new robot !

I really enjoyed customizing and creating it.

It was fun. The moving legs were really great.

I discovered that robots can make a variety of movements.

I enjoyed learning by trial and error.

It was cool that I could make a robot with basic materials.
Voices of
Parents and Guardians
It was very fun.
Even when failing repeatedly, I enjoyed the challenge of continuing.

It was great to see them so enthusiastic and happy during the creative process.
They were able to experience the process of thinking and trying again which is not seen in current digital education.

Even my son was able to design, create, and operate the robot himself.
When things didn't work out well, we thought about solutions together, and it was good that you don't immediately have a perfect final product.
Kit Contents
非表示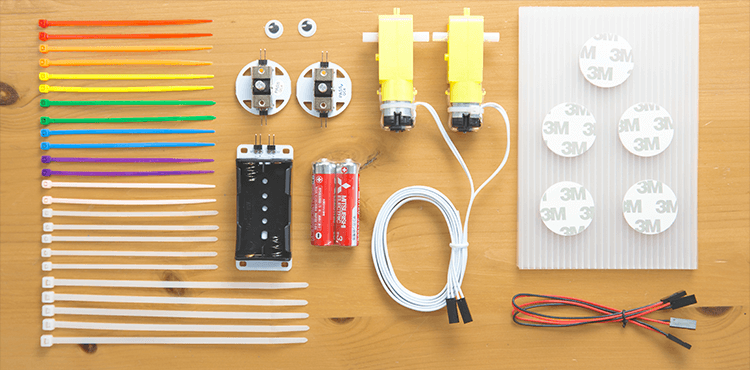 ・ Cable Tie
 

White (Long x5, Short x5)

 

Color (7 colors x 2)

・ Motor

(×2)

・ Battery Case

(×1)

・ AA Battery

(×2)
・ Switch

(×2)

・ Double-Sided Tape

(×5)

・ Wiggle Eyes

(×2)

・ Jumper Cable

(×2)

・ Plastic Board

(×3)

・ Safety Notice
Procedure
非表示
Introduction
Please read the safety andother instructions contained insidewith an adult before starting
Assembly Instructions
STEP1

Cut plastic board

STEP2Secure parts using the double-sided tape

Attach parts where you would like

STEP3Securely fasten the motor using the cable tie

STEP4Connect the jumper cables and insert the batteries
Customization
Customize to make your own original critter robot !
Add a "cocoro" to your robot!
Resources
非表示
For resources on the create-a-critter robot kit,please see below.